Welcome to the 2019/20 Season!
April 13 – League Singles
May 4 – President's Cup: A Division
May 4 – Vice President's Cup: B Division
May 4 – Treasure's Cup: C Division
May 8 – Year End Banquet
March 15 – Due to the latest announcements regarding COVID19, Monday's tournament will be cancelled.  
This decision was jointly agreed upon by the majority of the SPPDL Executive.
Further SPPDL updates will come based on the latest news closer to our league schedule dates.
This email has been sent to ALL SPPDL members that have provided a valid email address.  Please make sure your fellow players are aware.
Congrats to the 2020 Divisional Singles winners…..
A Division – 1st Place: Kyle Jackson, 2nd Place: Richard Nousek
B Division – 1st Place: Charlie McDonald, 2nd Place: Antony White
C Division – 1st Place: Carl Young, 2nd Place: Graham Burkhart
Thanks to all that participated, $532 was collected for the Strathcona Food Bank!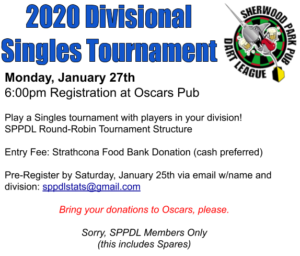 Congrats to the 2019 Christmas Turkey Shoot winners…..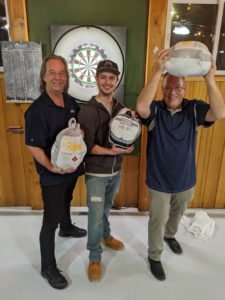 1st Place – Moe, Mark, Greg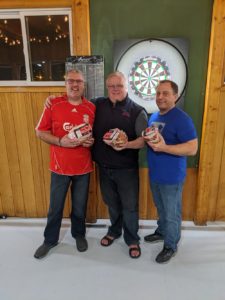 2nd Place – Carl, Tom, Brian
Thanks to everyone for participating and MERRY CHRISTMAS!